Siquijor is a beautiful island destination that really is a must-see destination. It is a unique island that is well known by locals as a place of magic. Some locals won't even visit the island due to the stigma of witchcraft and voodoo. But within the island of Siquijor you can find majestic waterfalls, pristine beaches, amazing snorkeling and scuba diving and much, much more. In this blog I will tell you about the best place to stay, eat and must-see places to see while you are visiting the wonderful island of Siquijor!
(Kawayan Resort, Siquijor)
         I have stayed at a variety of places in Siquijor and the one I really like the most is Kawayan Holiday Resort.  https://www.kawayanholidayresort.com/  This resort is priced anywhere from $70 to $200 a night depending on if it is peak season, what day of the week and what cottage you select.  It is pricey but most people go to Siquijor for a few days only as it really is not a destination that most people stay at long.   The infinity pool, the cliff side view with stairs leading to the ocean, the beautiful seaside cottages and beautiful views of the sunset make it worth the price for a few days.  If you want to snorkel or dive, this place is an ideal location with a dive shop on the property.   Couple of massages are available outside overlooking the ocean and there is even a fish spa pond.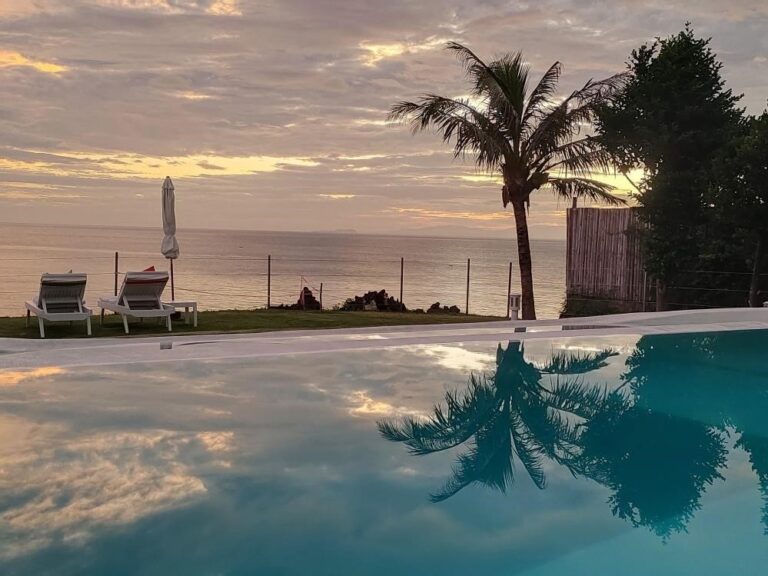 You can find a variety of great restaurants all over Siquijor but one of my favorites that I went to night after night was Baha Bar.  http://bahabar.com/  This place has a very cool atmosphere with live music nightly and a mix of international and Filipino food that is to die for.  We had amazing margaritas, local dishes, homemade coconut ice cream and delicious appetizers.   Once we ate here, we kept going back night after night because we were so impressed with the food here.  
(Sizzling Bulalo, Baha Bar)
Siquijor is home to some of the most amazing waterfalls, beaches, caves, underground rivers and much more. If you are looking for white sand beaches look no further than Solangon Beach as it probably has the best white sand and view of the Sunset on the island. The other beaches I recommend are Paliton Beach and Salagdoong beach which also has a cliff jump. Waterfalls are plentiful in Siquijor and it's most famous and interactive waterfall is Cambuguhay Falls with amazing rope swings. Lugnason Falls which is a locals' favorite is also worth checking out. The highlight of my recent trip was Sambulawan Underground River. It was an amazing swim of 140 meters to the end and followed by two additional chambers in the cave to explore. The cool thing was this was used by the Japanese during World War 2. There are so many other caves, beaches and waterfalls to check out here but this is a good starting point and these are the must-see points of interest. One last place worth mentioning is the enchanting 400-year-old Balete Tree and fish spa. For 20 pesos you can enjoy the fish spa and purchase some of the local witchcraft items like a love Spell.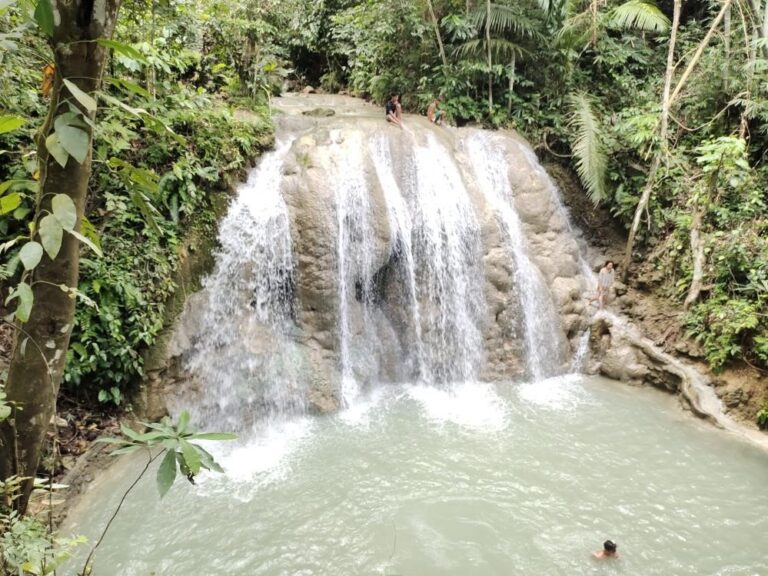 (Lugnason Falls, Siquijor)

Where is Siquijor and How to Get There?
The easiest way to get to Siquijor is by fast craft from Dumaguete, Negros. The ferry leaves three or four times a day and same with returning back from Siquijor. I recommend lining up for tickets about 2 hours before the ferry actually leaves and if possible, go the day before and purchase your ticket. I recently traveled with my motorbike and girlfriend and it cost me about 700 pesos. If you are flexible then I recommend going on a weekday when it is less busy and resort prices are less. Weekends attracts a lot of locals and resort prices tend to be more expensive. This is one trip you won't regret and plan on visiting a few more times. Enjoy!

Check My Siquijor Travel Blog!