A Negative Thing Turned Positive
One of the negative things I often say about places to visit and places to live in the Philippines is the number of foreigners that are visiting or living in that area. Dumaguete is a top destination for tourists and for foreigners to live for many good reasons (see my previous blog on Dumaguete for more information) because of this it has produced some fantastic restaurants in the Dumaguete area and in this blog, I will list my favorite restaurants and coffee shops.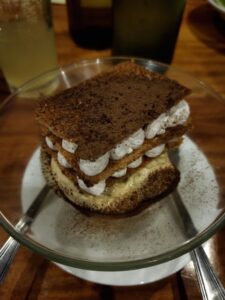 (Tiramisu Cake at
Adamos Restaurant)
Ground Zero
The first restaurant is really an interesting place since it could be described as a coffee shop, bar and restaurant and is the only one on the list you can be sure to have options for about everything you are craving whether it be a great cup of coffee or a pizza.  Ground Zero is a restaurant that opened in 2021 during the pandemic and it has done well and continues to do well.   I have to say it has one of the best cups of coffee in the area and fantastic pizzas so if you are looking for a place to relax and have some quiet this is the place.  It has comfortable seating, outdoor dining and even dining outside on the balcony.  Another bonus is the internet is surprisingly fast here and many people come in with their laptop to do work.  Prices are very affordable.  If you are looking to meet fellow expats come to Ground Zero and hang out, you are bound to meet some people who will help you get the lay of the land.  If you are in the Dumaguete area, come and check out Ground Zero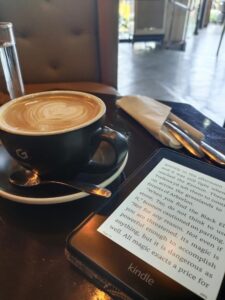 Mister Saigon
Mister Saigon is a Vietnamese restaurant and is about as close to traditional Vietnamese food as I have found outside of Vietnam itself.  This restaurant has traditional Bahn mi and pho bo.  The portions are great and the prices are very reasonable.  The owner is Vietnamese and provides a nice home feeling when you are dining here.  It does have limited hours and is actually only open till 7pm and closed on weekends.  There is not any good signage and so when driving and following the directions on google maps you will come across a gate with a very small sign and it will look residential until you drive in.   It is definitely worth checking out and being Vietnamese food, you can assure you are getting a healthy meal loaded with veggies!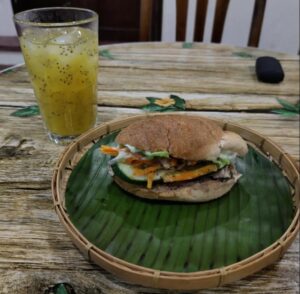 (Bahn Mi sandwich & Mango juice with Chia at Mister Saigon)
Esturya
Esturya is a small and very quaint little restaurant which is known for its great pizza but it has a very extensive menu loaded with delicious pastas, seafood, and a variety of other tasty dishes.  The presentation is amazing and the food is delicious and all for very reasonable prices.  This place can often be busy so wait times for orders can be a bit lengthy but I assure you it is well worth it.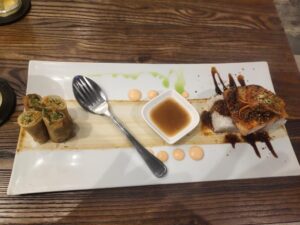 (Salmon over rice with spring rolls at Esturya)
Bertelicious Sushi
This place is known for cakes and sushi and the prices blew me away because in my head I was thinking of sushi prices in the USA which were so much higher.  The sashimi, sushi rolls, cakes, pies and salads were amazing.  This is owned by an American from the East Coast and his Filipina wife and run by all family except for the baker who is treated as family.  It is a small place in front of a home and is technically in the city of Bacong.  If you are a fan of sushi, sashimi, miso soup, salads and desserts then this is a must! We went here with a group of friends after a long day hiking to the waterfalls, this hit the spot. We were just blown away by the spread as you can see in the photo below.  Check it out when you visit Dumaguete!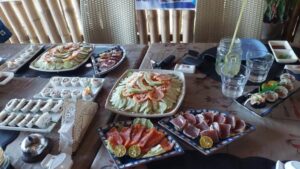 Adamo
I have now been to Adamo restaurant twice and the menu is amazing and the prices for what you get are equally amazing.  The first time I visited I ordered the brisket and mashed potatoes and followed it up with tiramisu dessert.  My taste buds were in heaven, everything I have had here since then has been equally amazing.  This has to be my number one choice for cuisine in Dumaguete and the ambience is quite good as well.  It is a small place but it has private little booths that should be reserved ahead of time.  Lunch walk-ins are acceptable but you are safer by simply going to their Facebook page and messaging them and reserving a table to be on the safe side.  So, there you have it, my top 5 choices for restaurants in Dumaguete, as always, I will end this by saying just because I was impressed and loved these places doesn't mean you will, but at least come check it out and they are all located on Facebook and Google.  Bon apetite!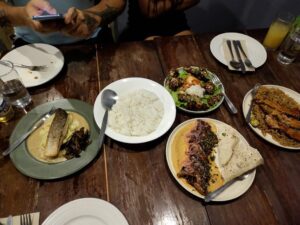 Arbour
Arbour may be the best restaurant on this list and maybe even in Dumaguete.  The restaurant is owned by a young German man and his Filipina wife.  I believe they are both chefs and the food is simply amazing.  Fresh local ingredients are used and you will find a variety of European dishes.   I have now tried four different dishes and two desserts here and they were simply amazing.  An explosion of flavor, the presentation was amazing too. The one thing that really surprised me was the service, water glasses were always refilled without asking, dinners were served all together and not separately which if you have lived here in the Philippines you will know what I am talking about.  This place is an absolute must if you are in the Dumaguete area!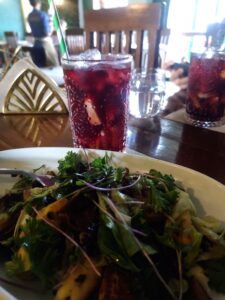 Latino Spanish Restaurant
Latino restaurant is owned my a wonderful gentleman named Marco, his menu is the most diverse I have seen here in Dumaguete.  He specializes in Spanish food but his pasta, desserts, and burgers are amazing too.  I love going here because Marco remembers all his customers and is always appreciative of all of his customers.   The restaurant is technically in Valencia but just on the border of Dumaguete, come say hi to Marco and try his Spanish Paella.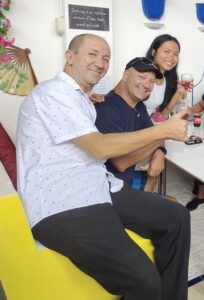 Coffee Collective
My favorite coffee shop used to be Ground Zero but since I discovered this coffee shop, I have a new favorite.  One the coffee is every bit as good as Ground Zero, it is nestled away in nature, and the coffee is less expensive.  I found the internet to be good, less people there and so a very nice quiet relaxing place to go to get away from the crowded Ground Zero.  I still like Ground Zero for their comfortable seating and extensive menu but if you want quiet, a good coffee and to relax with fantastic ambience, this is the place.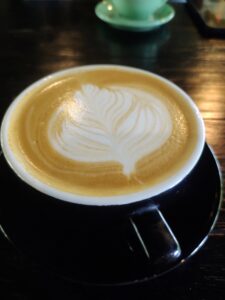 Alsani Cafe
In over 10 years I don't think I have had a Cannoli, but when I heard about this little coffee shop that has an owner from Rome, I thought maybe they will have Italian desserts besides coffee.  Much to my delight, they had amazing coffee and Surprise!, they had Cannoli.  Not only do they have Cannoli but they have many other delicious Italian desserts and drinks.  If you want great desserts and coffee come check out Alsani Cafe.   The only down side is the cafe is small and is frequented by college students so the place can be hit or miss on available seating.  Either way grab some desserts to go if that is the case.  Best desserts in Dumaguete in my opinion.