My very first trip to the Philippines was in 2015 and at that time I went to Davao.  Now I don't regret my choice in traveling to Davao but on my 2nd trip to Cebu, I said to myself this was an ideal spot for 1st time travelers to the Philippines.  In this Blog I will tell you when I think it is the ideal spot for your first trip to the Philippines.
Why Cebu?
The first reason is the international airport which is fairly new and organized making it easy to fly into vs. the chaotic Manila airport.  Cebu is fairly central making it easy to do a variety of different day or weekend trips while homebased in Cebu. My top three choices of places to stay in Cebu are IT Park, Cebu Business Park & Mactan Newtown.  These three areas you will find plenty of restaurants, bars, hotels, and condos for rent.  If you are a single guy these areas have call centers which is a great place to meet a college educated, working girl, and well spoken English.  


Where to Stay in Cebu – Top Hotels.
     When coming to Cebu, I recommend about 3 nights in a hotel and then if you will stay long term, move over to an Airbnb but arrange to view the rental first before you book.  Remember most Airbnb's have a monthly discount.  Believe it or not, sometimes 3 weeks can be more expensive than a month.  Play around with the dates to see. These are my top three hotels that I recommend.  
Quest Hotel and Conference Center Cebu, Cebu, Philippines
Day Trips While Staying In Cebu.
Staying in Cebu will offer you plenty to do.  I find it to be the perfect homebased to orient yourself while feeling out the Philippines as a potential retirement destination.  If you are into nature, I recommend an island hopping adventure from Mactan, it will include fresh seafood cooked right on the boat, swimming, banana boat ride, and snorkeling.  Waterfalls in the south of Cebu like Kawasan Falls and Agunid Falls are worth checking out.  In Oslob there is whale shark watching.  There are excellent resorts in Lapu Lapu that offer day passes and usually include lunch.  There are many more day trips that you can do but these are some of the top ones.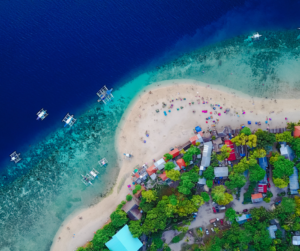 Overnight Trips While Staying In Cebu.
If you want an overnight trip or maybe even two nights there are plenty of destinations that are very near.  The islands that I recommend are Bohol, Camotes Island, Bantayan Island and Olango Island.  Now most of these are just a ferry ride over but some require hopping on a bus and then ferry.  These islands offer great resorts, beaches and water activities including waterfalls.  

Length of Time You Should Spend in Cebu.
Ideally one month is the perfect amount of time to spend in Cebu, if you add in your day trips, overnight trips and exploring Cebu then this will give you the right amount of time.  Less than one month you will feel rushed if you want to explore Cebu and nearby destinations.   I often have people reach out to me and have all these destinations planned, three days here, one day here, another 5 days there, now for some people that might be ok.  For the majority of people, I think most want to relax a little bit and get a lay of the land.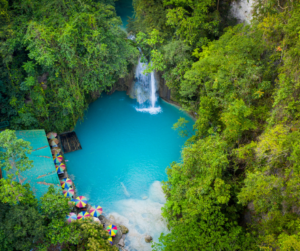 Final Thoughts on Cebu!
I find Cebu to be easy to get around with a convenient airport and great nearby destinations.  Manila is just too much for a first time visitor, overwhelming is the right word.  Other islands are fine but it is just another layover and another flight already adding onto an exhausting journey.  Now I understand if you are coming to the Philippines to meet a special lady, then of course you will need to go to where she is at.  Well, hopefully this will help first time visitors coming out to the Philippines.